Reviewer's Rating of Rating of CCleaner: 3½ out of 5
Overview:
CCleaner (formerly known as Crap Cleaner) is a Windows program that primarily works to remove files on your computer that you may not need. During the course of opening and closing files, installing/removing applications, surfing the Internet, or even everyday computer use, temporary files accumulate and are stored on your hard drive.
What if there was a way to take the guess-work out of clearing those space-robbing files? Looking to wipe those Internet browser history files and clear those application log files, and you want something that is reasonably priced, too? You should consider downloading and installing CCleaner.
Pros of CCleaner:
A popular application amongst computer geeks, it has been around for a few years. This application has a nice feature set, too. Those features include Internet cache and history clearing, temporary file deletion, a very basic registry cleaner, uninstall application applet, and startup item removal applet. When running the cleaner or registry repair feature, the application uses a significantly high amount of system RAM and CPU cycles. However, it usually takes less than two minutes to do most tasks. It now features a secure delete feature, with a seven-wipe pass. This means that any file the application deletes will be written over seven times with random data or zeroes. The program interface is easy to use and understand for computer users of any level.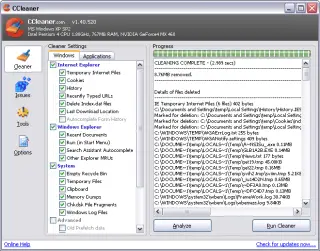 Plus, when attempting to repair the registry, the end user is prompted to back up the registry – just as a preventative measure – this is a good thing.
Cons of CCleaner:
In the past, this application was a bit overzealous as it would sometimes delete/remove critical operating system files. It is free, so it is not as adept at cleaning the registry as RegistryBooster 2, nor it is as robust when deleting files compared to East-Tec Eraser 2007. The registry scanner needs some work, I had to run the registry scan/repair feature three times before all the registry errors the application found were corrected.
Comments:
CCleaner takes the guess-work out of wiping your computers temporary/space-robbing files. Not as robust as some shareware titles. Price is extremely reasonable, though. Lacks tech support too, although they do have a help forum.
Price: Free via Internet download.
Related TechnologyTips Articles:
Similar Applications: