Miss your computer while away from home? Cheer up, GoToMyPC lets you access it from anywhere.

Look Mac, I'm just gonna tell you once - you gotta backup your system with XDrive.
Error processing SSI file


Gizmo
Olitech Total Office Deluxe Smart Memory Modem
By Andy Walker, Cyberwalker Media Syndicate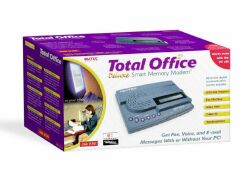 The Total Office Deluxe Smart Memory Modem is latest hero in technology convergence. Sure the dictionary-sized device is a 56K modem like the one you may already use to dial up the Internet. It's also a fax machine and is an answering machine to boot.
Beyond that it's a speaker phone and you can even have vaguely annoying music play while you put someone on hold.

The device will work with or without a connection to a personal computer, though without, the modem is not much use and the fax component won't work. Voice messages and faxes are stored on a SmartMedia memory card, which is commonly used in digital audio players and cameras. The device comes with a four megabyte card that can store up to 20 minutes of audio, though you can buy larger versions separately.

But, as the TV hawkers chant, wait there's more. The gadget also comes with a remote control that can command the unit from across the room. This product is ideal for folks who want more room on their desks, or a portable telecommunications hub.
Price: $99 US, $150 Canadian
More info: http://www.olitec.com
Buy it: In Canada, call 415-492-0196 for retailer information. In the U.S., call 1-800-221-2882.
Can't find this item for sale any more? Seeking a deal on it? Need accessories for it? Try looking at Ebay Auctions. Click: eBay.com
or eBay.ca