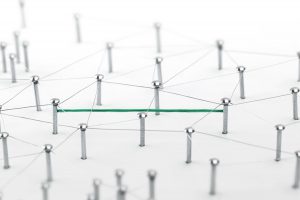 Want to know the answer to the question: What is a VPN? Let's first define the acronym.
VPN is short for "virtual private network". It is a privacy and security tool that securely connects one computer to another. A VPN eliminates the fear of being spied on or having data flowing from one computer to another snooped on by a third party via electronic monitoring on the internet.
How does a VPN work?
Here is how a VPN works. A user accesses a service, usually a paid service, that offers software that is install on a computer or mobile device such as a tablet or smartphone.

The software encodes (or scrambles) the information created on the protected computer or device. Then it sends it across a network connection to a remote computer that decrypts the data and then passes it on to its destination. It is this data disguising process that makes it impossible to track your connection. It stops spies from seeing your data, and it also makes your your Internet activities secure from snoopers.
How do I get a VPN service?
There are numerous companies that offer VPN services that you can buy, usually on a monthly or annual basis. We recommend this VPN service.
What is a VPN used for?
It is primarily used to safeguard any data you send or receive on the Internet, plus it keeps your data out of the hands of snoopers and away from prying eyes. It also makes you and your data invisible to people on the Internet.
Who uses a VPN?
People use VPNs to keep their Internet activities and data safe, secure and private. If you work at home, but need to connect to your company office, you will often be required to use a VPN. This safeguards any company data, your company activities, and the company facility you connect to.
Some people who are concerned about data theft, financial crime, and privacy will often buy a VPN for personal use.
What does a VPN service cost?
Usually under US$10/month. The CyberGhost VPN premium service we love and highly recommend is US$6.99 per month so it is a no brainer, and it is zippy fast. The premium service works on up to 5 devices including your mobile smartphones and tablets. The company has a free version too. That tier of service supports one device, and, it's slower.  It is also ad-supported.
Where can I sign up for a VPN service?
Start with this recommended VPN service: http://cwd.link/vpn