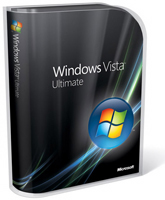 The decision to upgrade to Vista
has been tougher than most of the previous Windows upgrades. Many have held back since Vista's release in early 2007, and for good reason. You may have heard about the many problems with Microsoft's new operating system.
While you could argue that onerous security alerts and poor legacy software compatibility drive many people crazy with Vista, but it's the myriad hardware issues and incompatibilities that make most people howl with dismay.
Now before I take you through that minefield, let's give credit where it's due. There are a lot of good reasons to choose Vista. For one, it's drop-dead gorgeous. The new interface called Aero transforms the desktop into a truly beautiful place to work. The redesign especially to the Start menu - makes it easier and more intuitive to use than XP
. Gone are the cascading menus from XP. Now the Start menu is self-contained. Click an item and the menu refreshes instead of cascading sub menus out. The new live search features is great because it makes it easier to find content.
It's also more secure. The new User Account Control feature fends off malware.
On the downside, most of your headaches with Vista will come from hardware.
To that end, here are 10 of the most common hardware problems that a Vista user may encounter.
1. Greedy hardware specifications
Vista
needs a lot of power to run well. You're looking for at least 512Mb of DDR RAM
, a minimum 2.4 GHz Pentium 4 or AMD equivalent processor, and a 128MB video card that preferably supports Direct X 9. (Typical examples of such cars include ATI Radeon 9500 and newer or any nVidia GeForce card from the 5000 series and on.)
These are the absolute minimums that you should have before even thinking about Vista. Many have had problems with Vista
, only to realize after the fact that they fall below these specs. But to be honest, you'll want at least 1GB of RAM, and a 3.0GHz Pentium 4 processor or newer if you actually want to enjoy using your computer. In fact, a multicore processor is what you'll want for a good experience, either a CPU from Intel's Core 2 family or AMD's Athlon 64 X2 line.
For gaming. A 256MB Direct X 10 card is also ideal to take advantage of all the wiz bang and flash that Aero has to offer.
Less glamorous, but no less important, are the deeper guts of the system. You'll want a motherboard with the latest PCI express chipsets and DDR2 RAM slots. A large, fast Serial ATA hard drive will also help with load times. Anything 250GB or larger will do fine for storing Vista's massive install files while making sure you have plenty of room for your games and media files. Like XP
before it, the more robust the system, the better Vista shines.
2. Dearth of Drivers
Vista
is more than just a reinventing of XP; it's a massive rewrite of the entire OS. And for those in the business of writing drivers for their companies' devices, this can be a daunting task. Microsoft is notoriously secretive about letting outside developers see the core code to the OS. This can make it tough for companies to write for Microsoft products. And given the mind-boggling variations in the end-user configurations, it's even harder to nail down a stable driver release that makes everyone happy. As it stands, there are several Vista drivers that barely qualify as Beta releases. As with XP
in its youth, we can expect this shortcoming to improve in time. One of the biggest challenges has been rewriting drivers to accommodate the strict new security controls. Driver writers used to be sloppy about how they worked and what they could do to the system. Not anymore. Vista
drivers have to be carefully honed to work with a more locked down operating system.
3. Audio card issues
Many component manufacturers have decided not to make Vista drivers for devices older than five years. Soundcards like Creative's SoundBlaster Live series are not supported in Vista. Only the SoundBlaster Audigy cards and newer have Vista Drivers listed on the site. Some 3rd party sites have put together a Vista driver though for this very serviceable card. An example is at the Softpedia site.
At this moment, however, you'll be using it at your own risk, as we have no proof yet of its stability on Vista.
4. Video card issues
Here we have a very different situation. ATI has released Vista drivers for the ATI Radeon cards all the way back to the 9000 series. They are good and stable drivers, yet none seem to exist for the tuner and VIVO elements in the All-in-Wonder series of cards. One might think that this may just be laziness on ATI's part, but the reality is that, as mentioned, Vista is not an XP
polish-and-shine, but a total rewrite of the core of the OS. Many drivers and devices they run relied on services and files in Windows XP. These files are either no longer used, or run is a different fashion in Vista
. According to ATI, this is all due to an architectural issue in Vista. Consequently, TV/Capture functionality is not supported in Windows Vista Media Center (and all other applications that run as a service). As a result, ATI has not been able to qualify a WDM capture driver for All-in-Wonder products under Vista.
ATI says it's working hard with third-party software vendors to ensure compatibility with All-In-Wonder products. Snapstream, for example, will shortly release a version of BeyondTV for Vista that works with All-In-Wonder. The current POR is to use this application to qualify the All-In-Wonder capture driver.
Users will have to wait and hope that ATI can work something out because the company's statement is clear. The guts of Vista are not compatible with the way that the All-in-Wonder cards are meant to work with the OS.
5. Older motherboard chipsets
While you may meet the minimum requirements to run Vista, your motherboard may harbor chips that are not Vista
-ready. A prime example of this is the 915 laptop chipset. Intel has been very slow to get drivers for its popular chipset, especially pertaining to the onboard video in some laptops. These parts are quite capable of running Vista in all its glory, but without drivers they cannot live up to their potential.
6. High Performance Drive Controllers
Many RAID and Serial ATA drivers are also left out in the dark when it comes to Vista. Many are included on the Vista disk itself, but if you manage to find a drive controller that's slow to put out a Vista driver, you may be stalled out before you even get Vista installed! Always find out what parts you have on your system before you install Vista.
7. Printers and Scanners
As of this writing, there are still several high-end HP and Epson printers that have no Vista drivers at all. Newer model printers are often missing Vista drivers off the HP site. Some 64 bit Vista drivers can be had online. You may also get lucky and plug in the printer to find that Microsoft has included the driver either online, or in the install. But for the most part, if your new printer didn't have a Vista
driver in the box, you may have to wait.
8. USB 1.1
Vista requires that the USB ports must support version 2.0. While many have been able to get motherboards with 1.1 to work, it's a good idea to disable them in BIOS and add in a PCI USB 2.0 card instead. Besides, a motherboard with USB 1.1 probably needs replacing, anyway.
9. Digital Video Adapters
Oddly enough, Vista requires at least one DVI-D video adapter in the system video card. The card can have a VGA port as well, so long as there is a DVI port present. Onboard video options are exempt, though. A VGA adapter can help convert the signal to run on a VGA monitor. It makes you wonder what Microsoft is trying to do here, as the output of the video shouldn't be tied to the operating system. Perhaps it has more to do with HDCP compatibility? HDCP (High-Bandwidth Digital Compression Protection) is the standard that components must meet to display HD signals onto a monitor. These may come from a HD DVD or Blu Ray driver, or downloaded content.
10. S3 power Management
Vista
requires that motherboards use the S3 power management protocol when hibernating and resuming from standby. It also requires that the return from "Suspend to RAM" standby occurs in less than 2 seconds. Needless to say, this can be a problem for older motherboards that use or are set to use the S1 standard, or are just pokey waking up. This is a rare issue, but can be a real head-scratcher when the computer seems to just stop responding.