Ever noticed something isn't working the way it used to?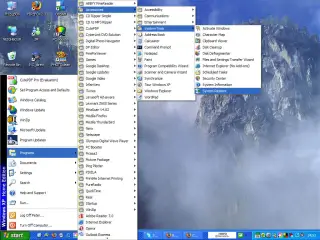 It may be your Windows XP setup is acting up. More often than not, a simple "roll back" to a time when things did work will suffice to fix the issue.
The System Restore tool would be your application of choice. If you keep your data in the My Documents folder, the tool won't overwrite it. The main thing is it can bring your machine back to where it was when things worked.
Before you continue reading, try SpeedUpMyPC 3. You might find that unnecessary stuff has clogged your system. That might fix your issue. But, if it doesn't …
Try the following:
Click Start and point to All Programs. Point to Accessories, then to System Tools. Click System Restore.
Make sure to read the info on the Welcome to System Restore page.
Make sure to select the Restore My Computer to an Earlier Time option. Click Next.
Think hard: when was the most recent time your computer hummed merrily along to your complete satisfaction? That's the date you will pick on the Select a Restore Point page. Guesstimates are acceptable: if you're wrong, just pick another date or go so far as to return to where you are. Click on a date and click Next.
Breathe in deep. Read the dire warnings and descriptions of what's going to happen On the Confirm Restore Point Selection page. When you're ready, breathe out, stop breathing, click Next.
You've just restored your computer configuration. You might have to restart. If you guessed right about the date when things worked, everything should be spiffy.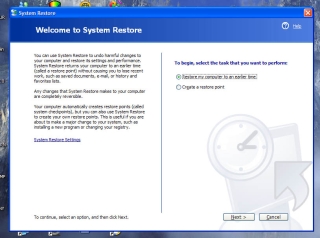 Of course, computers being what they are, if you installed any programs after the date of the restore point you used, you'll have to reinstall those programs. The logic is easy: you didn't have those programs installed prior to the restore point.
By the way, this might be a splendid diagnostic tool for you: if you reinstall the program and the computer starts breathing heavily on you again, you've pinpointed the challenge. To confirm, you will just uninstall the offending application – and if you're lucky and the computer comes back to life again, you'll know what's going on and will have another challenge to stare down: how to get around without the offending program. But that's another issue altogether.