Reviewer's Rating of Ad-Aware 2007 Free: 3 out of 5
Overview:
A popular anti-spyware application that was one of the first to combat spyware on computers. Ad-Aware 2007 Free is an updated version of a freeware application that scans for and subsequently works to remove malware from your computer. This malware can consist of tracking cookies, spyware, trojans, adware, and other nasties that could end up on your computer. TechnologyTips recommends using at least two (an preferrably three) anti-spyware applications on your computer.
You should deploy one commericial product such as CA Anti-Spyware 2007 or Spy Sweeper along with Ad-Aware 2007 Free as well as the Windows Defender, which is free from Microsoft for XP and comes installed on Windows Vista.
Also, please note, be sure to use the real-time protection from only one anti-spyware application. Real-time protection is a feature that acts like a security guard that watches entry points on your system.
If you are you looking for a program to complement your existing anti-spyware applications, be sure to add Ad-Aware 2007 Free to your line up.
Pros of Ad-Aware 2007 Free:
This application has been markedly improved over its predecessor, Ad-Aware SE Personal.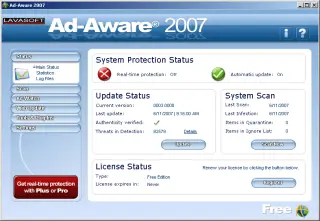 It now features an automated spyware signature file update. That was an operation users had to perform manually with the old version. The program interface is nicely laid out, easy to use for any level computer user. Running a full system scan took less time as a result of the revamped scanning engine. The Smart Scan took 4 minutes, System RAM use was consistent when scanning, although CPU usage fluctuated wildly. A full system scan took about 26 minutes on a 20Gb hard disk drive. A new tracks sweeper option removes browsing history traces from Firefox, Internet Explorer and Opera, too. You can also set the application to start automatically and scan when starting/restarting your computer.
Cons of Ad-Aware 2007 Free:
The free version shows the options for scheduled scans, custom scans, and Ad-Watch (a paid real-time scanner). Clicking on these options can potentially frustrate end users of the free version. When selecting those options you are met with a pop-up window saying: "You have to upgrade to PLUS or PRO version of Ad-Aware 2007 to use this feature." Those paid features should be isolated and put in their own section of the application, not hidden within the program interface. This would clearly distinguish and delineate the free and paid features and create less confusion and potential frustration for end users. Additionally, to display three plugs for paid features on the Main Status page is annoying. The free version is lacks technical support, although they have a community free forum.
Comments:
A good complimentary anti-spyware application for your computer. Hiding paid features within the free version interface is not good. The paid versions only come with a one year license.
Price: The Free version is for personal non-commercial home use via Internet download. The Plus version with a 1 year license is 26.95 USD. The Pro version with a 1 year license is 39.95 USD.
Related TechnologyTips Articles:
Similar Applications:
Additional Resources: