Did you know? A newer review of this software title is available: Uniblue's SpeedUpMyPC 3
Sometimes all it takes to make your computer behave is by applying a little extra control. Sure you can learn to tweak the registry and administrate the PC into submission manually, but why suffer when you can get a program like SpeedUpMyPC 2.0 to do it for you?
Like it's name, the program helps your computer perform better. It tweaks and fixes problems that make it run faster. It comes with more than 10 tools that each address a problem area on the computer. In Memory, it will clean the RAM and release memory that has been reserved by program but forgotten by the system.
The Startup area allow you to improve the performance of your start up routine and make your computer boot faster.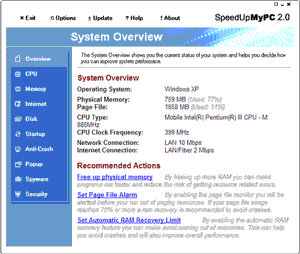 There's even a crash recovery utility designed to help recover a program when it has apparently crashed. This works some of the time. Sometimes a crash is beyond repair. But you'd be surprised what can be saved.
There's a really handy tool to test the performance of your Internet connection. If you service provider is promising 1 Mb/s then you can see how your connection is performing against that promise.
There are even spyware and security threat dectors in this program to hep you better manage threats to your computer's security – keep hackers out and snoopers software off the machine. And a pop-up blocker keeps web pop-up ads at bay.
All in all, this program is definitely worth considering. It'll give you much more information about your computer and how it performs than you have now and ultimately it will make your life a lot easier, especially if your computer is a little older and often grumpy in its tasks.
Price: $29.95 US