The computer you are reading this article on is a collection of several parts, often made by different manufacturers. These parts all typically adhere to a set of standards, but they still require flexible drivers and tweaks to work with each other properly. This can be both a strength and a weakness.
Sure, being able to upgrade your PC with whatever part you want is liberating. But on the flipside, the one key disadvantage the plagues the PC market is the sheer number of parts that have to work seamlessly with each other. This usually occurs at some cost to efficiency. Not only does the operating system need to be able to reign them all in, but they must also physically be able to communicate with each other perfectly.
But there have been a few modern platforms that have not had this issue. A very good example is the first–generation Xbox. Built from PC parts, it sported a paltry 700MHz Pentium III and 64MB of RAM, but it ran an operating system that was designed just for these parts, on a board that eked out every last drop of speed. As a result, the hardware designed with each component in mind ran at its maximum potential. One could jokingly argue that the Commodore 64 was just such a system, too, and they might be right. But I'm not confident that too many people can get Crysis working on one quite yet.
Most Macs have also historically enjoyed this advantage. In fact, they openly touted that fact for years, much to the annoyance of PC users. Since Apple controlled the hardware and designed the operating system, the hardware could run efficiently. More importantly, there was no system bloat caused by unneeded compromises. Nothing clogged up the works. As a result, many Macs claim to run faster than PCs of equal speed.
Now, the dream is that if only someone could build the same thing for a Windows PC. Wouldn't that be great? Granted, Intel is widely regarded as one of the first companies to bundle parts into a common platform and brand them as such in the marketplace. Heck, just putting the 'Intel Inside' sticker on the outside of a computer case used to imply power and quality. More recently, the heavily advertised Centrino and Viiv platforms are examples of Intel's approach. Except, they were meant to lower cost or lower power consumption, and also to increase stability for the laptop and low–cost desktop markets. And while the processor and chipsets were well matched and nicely optimized, it was mostly a two–part show, featuring the processor and chipset. The third item of the triumvirate was the Intel wireless controller, not a big contributor to gaming performance. Oddly enough, graphics were not part of the equation, so unfortunately the graphics were usually provided by either an under–powered Intel 950 video chipset or a third–party solution. This then opened the door for third–party video hardware that rendered much of the platforms' advantages moot. These platforms were then great for spreadsheets and web browsing, but not so great for modern games.
Now, if only one company could build the processor, the chipset, and the video components, the real core of the computer, and integrate them all in to one genuinely powerful and compromise–free unit, all without being as slow as the integrated units of the past.
AMD
has done exactly that, and it's called Spider.
When ATI was gobbled up by AMD last year for $5.4 billion, many predicted just such a development. The irony is that fairly recently AMD and nVidia were very close partners, with early nForce chipsets being exclusive to AMD
processors. At the same time, AMD also vocally downplayed the integrated platform concept, preferring to offer choice, instead. But now that ATI is firmly in AMDs pocket, they seem to have had a change of heart. AMD could now, if they wanted to, just slap out some half–hearted product and shoot for the cheap to make/high margin solution.
So the big question is "Will AMD be doing that here?"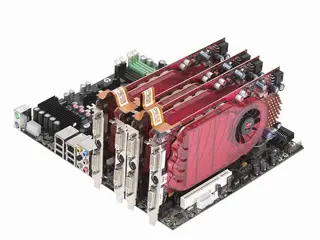 The answer is NO!
The good news is that, on paper at least, this will be a platform worthy of Crysis and other high–end games. It will be very scaleable, allowing for as little or as much power as your budget can bear within the Spider framework. It will also use only top drawer parts like AMDs new Phenom Quad–core
processor, the also new 700 series graphics Chipset, and offer support for the latest DirectX 10 (DX 10) ATI Radeon HD series of video cards. Capable of running each component at their peak capabilities, they can offer maximum performance to the user. The other advantage is that it will still end up being low–cost by default, and will therefore make PC vendors very happy. An estimate cost for a powerful DX 10–capable system: $800–$1,200.
Let's explore the guts more thoroughly to see what's all in this Spider's web.
As mentioned, the processor will come from the new Quad–core Phenom processor family. AMD
calls the Phenom a true Quad–core
chip, with each core a physically separate chip, but interconnected on the same die. With each core working as a separate chip and operating at 100 per cent of its speed, this will give AMD a real shot at Intel's dominance in high–end Quad–core offerings. AMD offers three options, to date, the Phenom 9500, Phenom 9600 and Phenom 9700 processors for Spider.
They should also offer the great performance and good value for the end user that AMD has been known for. Spider will use any processor in the Phenom family range.
The next piece of the pie is the AMD 700 series family of chipsets. These chips will consist of the low–end 770, the mid–range 790X, and the top–of–the–line 790FX. This is really the heart of the whole platform, and the glue that binds all the parts. The 700 series chipset is a next–generation part that was designed by ATI. It offers support for 4×16 PCI–E (express) 2.0 slots, as well as built–in overclocking for the processor and the video chipset. The 4×16 PCI–E slots might seems like a mouthful of nerdy jargon, but what it means is that you could add four video cards and connect them via CrossFire X, also built into the chipset, and then over–clock the whole gang of them for some very ridiculous performance. Tim Allen would likely have a few approving grunts for us here! I could go into all of the features that are new to this chipset, but I don't wish to put you to sleep with a boring white paper. Just know that it's fast and offers plenty of future upgrade options.
As for the video chipset options, you can pick and choose from the latest Radeon graphics cards using last year's R580 chip and newer R600/670 chips. While the R580 based cards only support the older DirectX 9 standard, the R600/670 based cards all work with DX 10 and support Shader Model 4.0 and OpenGL 2.0.
Again, more techno–mumble mouth, but these are important features to those who want to play the newest eye–watering games. These cards are out now and known on the street as the Radeon HD 2800 and 3800 series. They are not limited to Spider, and will run well in any PCI–E–equipped computer.
But as stated earlier, with Spider these cards can run at their maximum potential. What's more, you can add up to four of these cards and connect them through the CrossFire X
interface and run them as though they were a single 'Voltron–style' Mega Video card. Nice!
Now that puts a smile on my face just thinking about it, even though I likely will never be able to afford to do so. But that's the point of Spider, even a single low–end 2800– series Radeon HD will give the user a great gaming experience. Spider is designed to offer the most performance from each part.
Now, if AMD
and Microsoft were to release an optimized version of Windows Vista
(or better yet XP
), with only the drivers and services needed for running full out on Spider, you could really have something special. And I'm sure the Linux community could put together their version for Linux that also maximized Spider's benefits.
But not all is rosy with the introduction of Spider. One of the problems with Spider's launch is that none of the big PC retailers like Dell and HP are not on–board yet. Oddly enough, AMD has chosen to release Spider through low–volume boutique makers like Falcon NorthWest and Velocity Micro. Both are known for making beautiful, powerful, but expensive computers. iBuyPower and CyberPower are also on board, but again, they usually build high–end gaming systems and are not well known household names like Dell
or HP
.
But for Spider to really become a hit, AMD needs to get out to a wider market, and this has always been an AMD
weakness. I'm not sure if this was wise of AMD to limit the distribution of this really powerful platform to such a limited market. Even if the idea is to allow for low cost gaming, there are other advantages that other users could benefit from. Getting in Dell and HP systems would open them up to not just a wider distribution network, but also act as low cost exposure via those companies.
Perhaps it's that the big PC makers just aren't interested in Spider yet. Perhaps AMD has other tricks up its sleeve, and is hold back intentionally. Who knows? Maybe they are waiting for the upcoming (and equally revolutionary) 'Fusion' chip that will incorporate the CPU, RAM controller, and video circuitry all onto a single die. But this would most certainly be a lower cost, lower performance solution, and regardless it's still two years off.
Whatever the outcome, we'll be keeping our eyes on this Spider for some time.