Grisoft's AVG Anti-Virus (Free Edition)



Reviewer's Rating of AVG Anti-Virus (Free Edition): 4½ out of 5

Overview:
AVG Anti-Virus (Free Edition) Version 7.5 is a very popular antivirus application for Windows and Linux users alike. It is a stand-alone antivirus application that scans your computer for viruses. It is coupled with a real-time virus monitor that helps to stop viruses before they can infect your computer. It also automatically scans all incoming and outgoing e-mail messages for viruses with little or no end-user intervention.
If you want a solid, dependable antivirus application that is free for home, personal, and non-commercial use, Grisoft's AVG Antivirus (Free Edition) is the antivirus solution for you.
Pros of AVG Anti-Virus (Free Edition):
This application has been around and in development since 1991. It has a reputation as a solid, no-nonsense application that gets the job done, I agree with that assessment. The interface for the application is pretty intuitive, as in easy to use and understand for computer users of any level. It is resource-friendly and does not rob your system of CPU cycles or system RAM. Plus, it is quick and efficient: scanning a 15Gb hard drive for viruses took about 35 minutes. There are additional benefits with the paid version, such as: you get tech support, access to multi-language versions, and a license to use it in a corporate/business environment. It scans and certifies all your incoming and outgoing e-mail messages. It checks automatically for updates every 24 hours and has a real-time virus scanner.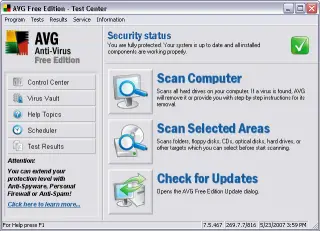 Better still, since this is a dedicated antivirus application, additional features such as worm blockers or antispyware protection that tend slow down other antivirus applications are not an issue.
Cons of AVG Anti-Virus (Free Edition):
When setting up and installing the application, it offers the option to run a daily scan. A weekly scan option would be nice with the free edition. The program interface is not filled with eye-candy and pretty buttons like some other antivirus applications. Lacks technical support, yet it is free, so what do you expect? They do have a free forum, though.
Comments:
An outstanding stand-alone dedicated antivirus application. I have used it for several years and still do on my systems at home. I highly recommend it. Lack of tech support for free edition may stop some people from considering this application.
Price: Free for personal non-commercial home use via Internet download.
Related TechnologyTips Articles:
Similar Applications:
Additional Resources: