Nobody, not even his wife Melinda, knows for sure what drives Bill Gates. He doesn't know it himself.
Andy Walker does not pretend to know, either.
What he does know is how to test-drive software to perfect exhaustion, trying tricks not even the most sophisticated programmers could think of when they had been writing the code, then put the thing back together, wipe the sweat off his brow and proclaim himself either happy or perfectly disjointed.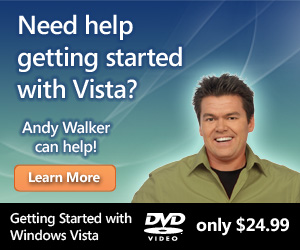 Whether it's a good sign for Bill Gates and his Microsoft cohorts or not, you will have to judge for yourselves, but Andy Walker has joined forces with the Getting Started Video company (GSV). Together, they created a DVD tutorial that teaches newcomers how to master Microsoft's new baby, Vista.
Walker is not a total virgin so far as cameras go. Lenses have loved him for quite some time. After all, Andy co-hosted and co-produced the internationally syndicated show Call For Help with Leo Laporte and Amber MacArthur for a few years. And he's been producing his LabRats podcasts with gadget guru Sean Carruthers to well-deserved acclaim.
Walker's been answering wannabe geeks' questions in his TechnologyTips columns for more than a decade. And he knows a thing or two about Vista, too, having written his Windows Vista Help Desk for Que publishing, the same outlet that had published his Absolute Beginner's Guide to Security, Spam, Spyware and Viruses.
Walker pronounces Microsoft's new operating system a success.
In a tutorial show that is structured so everyone understands Vista before even installing it, Walker explains why Microsoft new baby's new features in security and productivity are not only exciting, but also important. And it wouldn't be Andy Walker, if he didn't go into his favourite section: Vista Tips and Tricks. That's where you'll learn most of the stuff Vista geeks have figured out, and yet, you will remain relatively normal.
There are two versions of the DVD. One is your standard disc, and then, for those among us who've got way too much testosterone, there's a high-definition version. Content-wise, they're the same. It's the image crispness that separates them.
Go to www.gettingstartedvideo.com to learn more, and if you want to know even more than that, or, better still, if you want to purchase the video, try this e-mail address: [email protected].
You won't regret either move.