A modem port (shown below) looks like a standard North American telephone jack. It connects an internal modem to a telephone line. A modem (for those who are new to the computer world) is used to connect a computer to the Internet by making a data call over phone lines to an Internet Service Provider (ISP).
Often, there are two modem ports side by side. The one marked "line" (or with a phone jack symbol) is connected to the wall jack. The one marked "phone" (or that has a phone symbol) can optionally be connected to phone handset if you want to use a telephone on that same wall jack.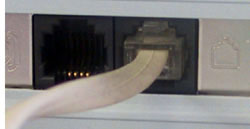 If your computer doesn't have an internal modem installed, you will not see these ports. You might, however, see an ethernet port. It looks similar to a modem port but is wider – be careful not to plug a phone cord into an ethernet port.
Add a modem to your PC: 3Com 56K internal modem
Connectors index – Serial port – Parallel port – USB port – PS/2 port – DB15 video port – Power port – Modem port – Ethernet network port – Firewire/IEEE 1394 port