The consumer market for colour photo printing
has come a long, long way in just over a decade since they first appeared for the home user. Their steady, even though not too rapid, progress has brought them to the point where even the most basic printer today will provide an acceptable image for the average user.
There are major differences between the various levels and types of photo printers available though, so choosing one that's right for your needs requires a bit of thought.
First, you will have to decide what you will be needing the printer to do for you. Are you a shutterbug, whose vast photo collection requires you to print large numbers of prints in random quantities to send to friends and family? Or are you an artist, who needs to print the occasional high-quality image for clients or proofs? Or are you someone who works daily with photo images and so requires constant streams of prints to be run off at the office?
Determining the quantity of your printing needs is the first step. For example, if you decide to buy a basic printer that can't keep up with your speed demands, your frustration will make you a danger everyone around you.
Second, think about image quality. If you need to distribute high-quality photos all the time, you might want to consider using a printing service; printing large numbers of photo-quality images can get expensive very quickly. If you print a few dozen photos a month (or more), consider photo inkjets
, as you can manage their costs over time with proper care. Large quantities of low-quality images suggest a colour laser
, as the images can be printed for extremely low cost per page as compared to inkjets – more on that later.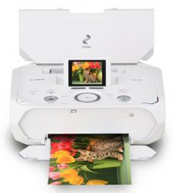 Third, look at your space needs. Do you need a dedicated printer, and have room to keep it idle until you want to use it? Or do you have limited space requirements, thus needing to combine several bits of hardware into one, such as a printer/fax/scanner combo?
One good choice for a multi-function photo printer is the Canon Pixma MP210
. It is a basic multifunction, but it will produce decent results on photo paper. Bear in mind that unlike higher-end printers, it only uses two ink cartridges, so the ink can get expensive if you run huge amounts of prints – the entire colour cartridge will need replacing if one colour runs out, even if the other colours are still good. Also, Canon claims the printer can produce a 'photo-quality 4×6 lab print' in less than a minute – impressive for a multifunction that costs less than $100.00 US.
Stepping up from the basic printers, you can look at the Canon Pixma IP4500
, one I have personally tested. Once I had selected the proper printing preferences for each photo and used glossy photo paper, the results were indeed stunning. Able to produce prints at resolutions of up to 9600×2400 dpi, this printer can take full advantage of today's high-megapixel digital cameras. Of course the cost per page is not low, at around ten cents per 8.5″ x 11″ print, but the results speak for themselves.
The Canon Pixma 9000 Pro
printer is at the top of Canon's line, for the serious photographer. It can produce prints that rival those of some professional imaging houses. It has a native resolution of 4800×2400 dpi, and can produce borderless prints of up to 13" x 13" – great for artists and graphic professionals. Also, Canon offers special inks that can make photos last up to 100 years – perfect for preserving family memories.
For those who need the ultimate level in image quality, look no further than a dye-sublimation printer
. This type of printing technology is radically different from lasers or inkjets: it uses separate sheets of thermal dye for each colour, heating tiny parts of each sheet to bond it with the paper beneath. The paper is fed through the printer several times, each pass thermally bonding a separate colour layer to form the final image.
Dye sublimation has both advantages and disadvantages when compared to mass-market inkjets or lasers. First, the prints are dry as soon as they leave the printer. The images are also much more 'true to life' in terms of colour, as you can create exact tones from the four-colour-layering process. However, this also wastes up to 95 per cent of each colour 'panel' for each print, as the process doesn't use any part of a colour layer if the image doesn't call for it. This waste means much higher costs per print over time.
Colour lasers have dropped drastically in price over the last few years. Compared to a decade ago, they have marched straight into the realm of affordability for the average consumer. With prices for basic colour lasers around the $500.00 US mark, it's easy to see the appeal over monochrome in terms of simple flexibility. Laser printers of all kinds have several advantages over inkjets: the cost per page is measured in mere pennies (whereas inkjets have some of the most expensive costs per page) and they can output large quantities of prints continuously – their office roots show clearly here.
Still, be warned: though colour laser printers may be able to output thousands of prints a month for mere pennies per page, the quality of those prints cannot as yet approach that of photo inkjet printers. Colours are flat and more suited to charts, tables and brochures than trying to capture the rich varied tones of family vacation shots and scenic landscapes.
Having said that, one of the smallest (and cheapest!) colour lasers on the market is the Samsung CLP-300
. For a mere $270.00 US, it runs at 17 pages per minute (PPM) monochrome or four PPM colour, with a duty cycle approaching 24,000 pages per month – heavy-duty stats for a low-cost laser.
The other half of the equation is to consider the paper you will be using. Having a top-of-the-line photo printer will do you absolutely no good if you print all of the images on basic multipurpose paper – most people realize this, but it had to be said. There are many levels of photo paper available, from basic matte finishes to ultra-glossy and even 100-year archival quality stock. A good suggestion is to pick up a pack of one kind or another and try it out to see if you like the results – vary the print settings for your printer, and you may find the perfect match. Most paper stock is relatively inexpensive, so one or two packs won't break the bank.
Laser or inkjet or even dye-sub, the time has never been better to purchase a photo printer. Given that even basic printers cost less than a quarter of what they did 10 years ago, and provide five times the resolution, it's a buyer's market right now. So don't let your images linger unseen on your PC or camera; print them and share!