Let's get used to it: no matter how many times Microsoft tells us Vista
is here to stay, there are still some bitter foes who just hate the new operating system, and quite often, they have valid reasons for that. So, they try to go back to the time-tested XP.
It's not that easy. To get rid of Vista for good (or at least until it's good), there are a few tricks to getting XP
back onto your system. Vista does some things to your hard drive that often make it invisible to the XP installer. Everything after that is really just a standard XP install. These are steps that are best left to a computer-savvy friend if you are at all uncomfortable with making these changes to your computer.
The same concerns apply for this procedure as those mentioned in the dual-boot article.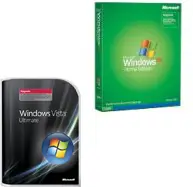 Make sure that your computers hardware is supported by XP drivers before you wipe the drive. You can find out what parts are in you computer from your system vendor, or you can go to Start » Control Panel » System and Maintenance » Device Manager to see what you have installed. The parts that are of the most concern are Chipset, sound, video, and network devices. If you find that these parts have XP drivers, feel free to continue. If not, you're risking that you won't be able to use your computer properly.
If you can get XP drivers for your parts, download them all and burn them to CD from Vista before proceeding. It's also a good time to burn any important files to CD as well, as repartitioning your hard drive means you will lose all the data on it. A web-based back up program such as Carbonite is a good option as well.
To get started, you may need to go into your computer's Basic Input/Output System, a.k.a. BIOS to disable Advanced Host Controller Interface, a.k.a. AHCI. XP cannot recognize it on its own without floppy drivers. If you have been able to download AHCI drivers, they often have a floppy disk creator built in that allows you to make a driver floppy. When the XP installer loads, you press F6 and insert the floppy, and follow the instructions.
If you do not have a floppy drive, or you are unable to get AHCI drivers for your computer, then you'll have to disable AHCI in the BIOS. By pressing the Delete or F2 while your computer first boots you can enter your computers BIOS screen. (Side Bar Note: you can also reference this TechnologyTips article on How to get into your computer's BIOS.) Try to find a setting that enables or disables AHCI, and set it to disable. While in the BIOS, make sure that the CD or DVD drive is set up to boot before the hard drive, otherwise it'll just keep booting into Vista. Save and Exit the BIOS to complete the change.
Moving forward, the big nut to crack here is resetting the partition on your hard drive to something the XP installer can understand. A really quick and easy way, for Acer Computers that come with Vista pre–installed is to download an ISO image from Acer that does this automatically. Acer has made a program available to do exactly what we need to install XP on a Vista system. Just download the Acer XP preparation CD to your hard drive and use a CD Burning program like Nero to make that preparation CD into bootable CD. Once you've turned the ISO into a bootable CD, you're ready to go.
Make sure you have a full version of Windows XP Home SP2 or Windows XP Pro SP2 in hand, as well.
Insert the Acer preparation CD you just burned into the CD/DVD drive and reboot the computer. If the BIOS is set to boot from the CD, the Acer program will start automatically. Again, this will destroy all the data on your computer, so make sure you are backed up and ready to go before you do go. Once the program is loaded, follow the instructions to repartition the drive. It's just a one- or two-click affair. When the partition is done, you simply swap the Acer disk for your XP install disk, and continue installing XP as normal.
From here it's just a standard XP installation, and soon you'll be back in XP 'bliss' (pun intended). Eventually you will need to move to Vista
, but hopefully when that time comes; Vista will be ready for you!