Reviewer's Rating of Parallels Desktop 3.0 for Mac: 4½ out of 5

Overview:
When Apple switched to Intel processors, consumers started clamoring for a way to run Windows on their Macs. People wanted to switch to OS X, but were loath to give up their programs that exist only for Windows, such as computer-aided drafting software and the all-important video games.
Three solutions popped up. First, Apple developed Boot Camp, a way to install Windows alongside OS X. Then, Parallels, Inc. released Parallels Desktop for Mac which lets you run Windows Vista and XP inside of the OS X operating system. Finally, VMware, Inc. released VMware Fusion, which works similarly to Parallels Desktop.
Parallels Desktop is virtualization software. Basically, that means it pretends to be a computer all by itself. This is called a virtual machine. Windows has no idea that it's not running on a "real" computer.
You can read more about virtualization.
Pros of Parallels Desktop 3.0 for Mac:
The first time you run Parallels, a setup wizard comes up with all the prompts you will need.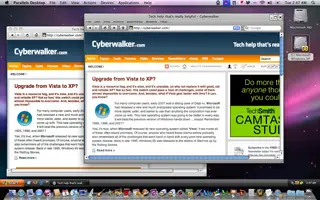 This seems to be the easiest way to install it. Other options include manual configuration. You can also use your existing Boot Camp install. If you use your existing Boot Camp install, Parallels accesses the data on that partition to run. If you install Parallels either manually or with the wizard, you'll need your Windows installation CD. Parallels also supports other operating systems, such as Linux and BSD.
If you don't use your Boot Camp install, Parallels does some cool stuff. You can share your documents across platforms. Parallels links your OS X "Documents" folder to the Windows "My Documents" folder so that any files in one are available in the other. This also happens on the Desktop and other specialty folders.
Parallels has a feature called "Coherence Mode". With this enabled, the Windows wallpaper disappears and the taskbar takes up position resting on top of the Dock. Windows' windows exist alongside OS X windows and works with Exposé seamlessly.
The last major feature of Parallels is its ability to take snapshots of your virtual machine and then run these snapshots later. Why would you want to do this? Well, one example is to test software. Take a snapshot, then install the software. After you test the software, you can revert to the snapshot and your virtual machine will be as if you never installed that software. Snapshots can also help with security and safety: they let you revert to a time before your Windows install got infected with a virus.
Cons of Parallels Desktop 3.0 for Mac:
That's right, a computer virus. The main drawback of Parallels is that if you install Windows, you get all the drawbacks of Windows. You should install anti–virus and anti–spyware software to keep your Windows install safe.
Another potential drawback of Parallels is the amount of resources it uses. If you have 512 MB of RAM set aside for Parallels, when you start it up, OS X has 512 MB less memory available to it. No problem if your MacBook has 4 GB of RAM, but on a computer with only 1 GB of RAM, you could take a substantial hit in performance.
Comments: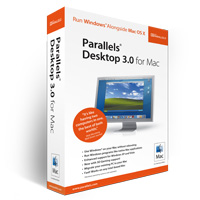 If you're looking to switch to OS X, Parallels is a great way to maintain access to the Windows applications you need. If you're a Mac user who needs to access Windows, say for testing web designs in Internet Explorer, then Parallels is also the tool for you.
Try Parallels Desktop 3.0 for Mac free for 30 days. Here's the trial information.
If you decide to buy it, you can just enter your license key into the demo; there's no need for another install.
Price: Parallels Desktop 3.0 for Mac costs $79.99 US –– The Premium Version is $99.99 US.
Related TechnologyTips Articles:
Similar Applications: