Reviewer's Rating of Rating of East-Tec Eraser 2007: 4½ out of 5

Overview:
East-Tec Eraser 2007 is a Windows applications that helps you erase files with confidence, and cover your tracks, too. When you empty the recycling bin, files that you had just removed are not really gone. Further, for Vista users the volume shadow copy feature creates a ghost copy of your files. In another scenario, you click on a web page link and before you know it, you have been redirected to an adult web page.
What if there was a way to easily ensure that that file you deleted is really deleted? These days, clearing your Internet cache and history is just not enough. EAST Technologies' East-Tec Eraser 2007 is an application that can address those issues and more.
Pros of East-Tec Eraser 2007:
An application that is easy enough to use for any-level computer user. The application's interface is simple – yet functional.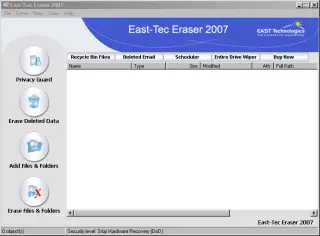 The trial version of the application is fully functional for 15 days. When clicking on a task, you get a clear and easy-to-read description of what that task does. Utilizes very little system RAM. You can also adjust system resource use – from low usage up to real time system resource use. There are several levels of erasing available – from the panic quick erase to the thorough scrub-and-clean erase which can take several hours to complete. Plus a bonus for Vista users, it even has a volume-shadow-copy erase option. This allows you to delete securely the volume shadow copies that are created by Windows Vista.
Cons of East-Tec Eraser 2007:
It does use a major portion of CPU cycles when it is set to do an erasing task. First time users should read the help file included with the program, just to get a better understanding of the application. The advanced settings may be somewhat complicated for the beginner or average-level user. The application may seem slow when doing a thorough erase or when wiping the free disk space. Could be priced a bit more competitively.
Comments:
Easy-to-use application easily deletes files in a secure manner for you. In addition, it can cover your Internet tracks on your computer. Could be priced a bit lower.
Try it for up to 15 days, after all, the trial version is fully functional so you can see what it can do.
The other option is to just buy it now.
Price: US$49.95 via Internet download.
Related TechnologyTips Articles:
Similar Applications: