Reviewer's Rating of the SpeedUpMyPC 3: 3½ out of 5

Overview:
Uniblue's SpeedUpMyPC 3 (Version3.5) is a Windows system optimization application. It helps users optimize their computers, delete unnecessary files, free up RAM and get back precious CPU cycles. If you are looking for an application that takes the guess work out of giving a boost your computers performance, Uniblue's SpeedUpMyPC 3 is for you.
Pros of SpeedUpMyPC 3:
An easy-to-use application with a simple program interface. The live real-time readouts on memory, CPU, disk use, and Internet connection are clear, concise and accurate. Designed with the beginner and average computer user who wants to get a bit more performance from their computer in mind. You can easily add, edit or remove start up items. The option to securely delete temporary Internet files is an added bonus.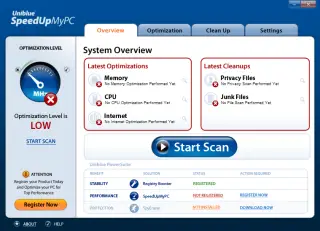 Cons of SpeedUpMyPC 3:
My computer locked up and froze the first time I tried to optimize it, requiring a restart. While the application uses a small amount of RAM, it is a CPU hog when running the optimize feature. The trial version is totally useless and locked down. It would be good to have fully functional trial version for 15 days like Uniblue's WinTasks 5 Professional. It takes three mouse clicks to close and exit the trial version. Not for ueber-geeks and advanced system tweakers.
Comments:
A decent program that works to boost your computer performance. May not be necessary for powerful computers with dual-core processors and lots of system memory (like 2Gb's or more).
A trial version is available for download. This trial version will scan your system which shows the user what can be optimized, however, to use the optimization features – you need to purchase the application.
You can purchase it now and get a bonus program at no extra charge.
Price: US$29.95 via Internet download.
Related TechnologyTips Articles:
Similar Applications: